Faith No Fear

for Cello Quartet


May 23--July 24, 2018
Duration: about 14 minutes


Composed for the Chapel Hill Philharmonia Cello Quartet

Video from March 24, 2019, Meredith College, Raleigh NC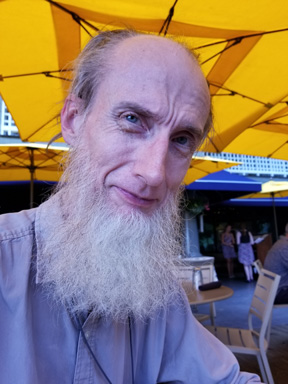 Performed by the Chapel Hill Philharmonia Cello Quartet

(Richard Clark, Dorothy Wright, Rosalind Goodwin, James Dietz)


Score, Cello Quartet PDF Quartet parts Cover

I. Turn Off the TV [4:20] MP3 recording WAV file (CD quality)
Niente televisione
II. Watch Your Breath [4:50] MP3 WAV
Adagio

III. It's Just a Fun Tune [4'] MP3 WAV
With an attitude
My good friend and long-time collaborator, cellist Bonnie Thron, connected me with Richard Clark, who is an enthusiastic amateur cellist. His chamber group, Chapel Hill Philharmonia Cello Quartet, was interested in new music for that instrumentation, as they are rather tired of arrangements taken from quite different formats. I was just finishing up my latest big project, Violin Concerto No. 2 written for Eric Pritchard, and figured a smaller form would be a good idea for a couple of months.
This music avoids virtuoso display, and is reasonably straightforward technically, to be useful for non-professionals.
The title is a quote from Neem Karoli Baba, an Indian saint. I have a lot of difficulties with anxiety, and just having this statement around does help.
While the first cello part tends to higher notes and the fourth tends to lower notes, in general the counterpoint will lead each part where it needs to go. As a result, each part gets a chance to play in the full range.