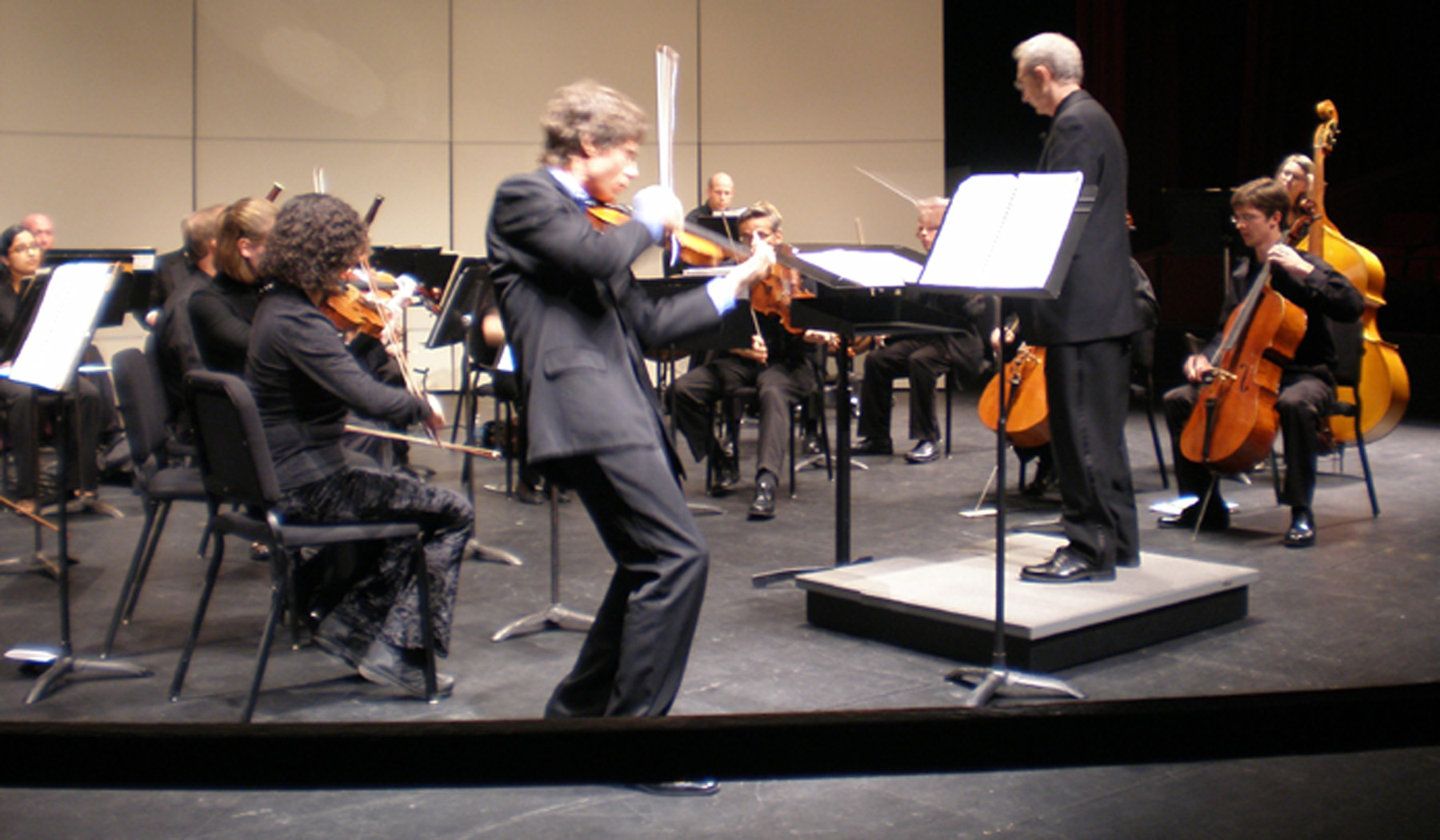 Ananda Concerto
(Violin Concerto No. 1)

for Violin and Orchestra

December 25, 2006--May 4, 2007; 2nd movement revised January 2013
Duration: about 21 minutes Photo above: premiere

for Ananda-Eric Pritchard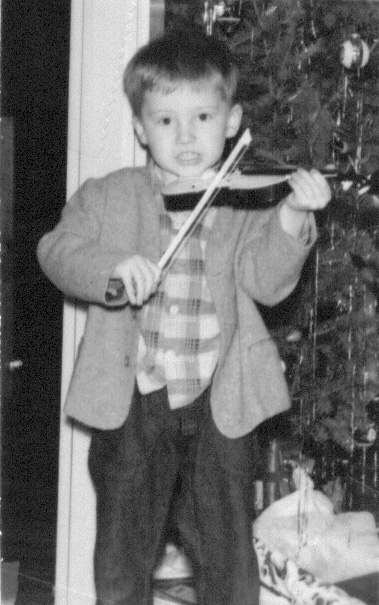 Premier performance by Eric Pritchard and the Raleigh Civic Chamber Orchestra, Randall Foy director, at NCSU, November 23, 2008
After the premiere performance, I was dissatisfied with a passage in the first movement, and with much of the second movement. In January 2013 I revised a bit of the first movement, and rewrote much of the second movement. As a result, the recording will not match those parts of the score, and I would like very much to have another performance with the improved edition.


Full Score (PDF) Cover Orchestral Parts
Solo Violin Part (PDF) Violin and Piano Score

I. Om Namo Bhagavate Vasudevaya
With Centered Atttention [6:18] MP3 Finale Score
II. Theme and 6 Variations [10'] MP3 Finale Score
III. Transfigured Ho Dao
Hayseedic [4:14] MP3 Finale Score
Review of premier performance from CVNC
(I've included a Christmas photograph here of me at age about 4, with a toy plasic violin, in Denton, Texas.)
As a youngster, before starting violin lessons, I would go to the basement, get a dowel, and saw it across my arm pretending to play a new violin concerto. Many years later, it has remained a dream to create one; but no longer able to play myself due to arthritis and poor hearing, a practical opportunity eluded me. However I now am collaborating with Ananda-Eric Pritchard, and so the natural thing seems to be—write him a concerto! There is also a piano reduction of the orchestral parts suitable for performance.
From 1980 through 1982 I composed the Goldbug Variations, at first for two pianos and then arranged for full orchestra, and also for five synthesizers. It was too long, difficult, and a touch immature; the piano version had one performance for an audience of 25 in 1982. Drastically edited and re-written, it forms the basis for the second movement of this concerto. In early 2013, I dropped the first two variations and added one at the end, adapted from a new set of Goldbug Variations composed for harpsichord. This, along with a small change to the first movement, makes this third edition.
This concerto includes four horns, two tenor trombones and a bass trombone. The first performance, by the Raleigh Civic Chamber Orchestra under Randall Foy and with Eric as soloist, in 2009, required reduction of forces to two horns and bass trombone, hence there is also a chamber orchestra arrangement. This was of the first edition.
About the various exotic terms in this score; "Ananda" is a Sanskrit word roughly meaning "bliss", and is Eric's spiritual name. The first movement's title is a Hindu mantra frequently used by devotees of Krishna, and translates as "homage to the blessed son of Vasudeva". The last movement is an expansion of the one-minute finale of the 11th Sonata for Solo Violin, first performed by Eric, which originally was in a set of 64 movements from 1979 related to the changes of the I Ching. Hence the Taoist pun on "hoe-down", and the Transfiguration from its former version. The deep inner meaning of "Hayseedic" is best left for others to elucidate.
Naturally enough, this work is dedicated to Ananda-Eric Pritchard in deep appreciation for his friendship and high degree of dedication to musical and spiritual ideals. The solo violin in the score has his bowings, while the solo extracted part has his bow directions and fingerings.
I encourage amplification of the solo violin where needed.


Eric Pritchard
has taught violin and served as the First Violinist of the Ciompi Quartet at Duke University since 1995. Formerly First Violinist of the Alexander and Oxford Quartets, Mr. Pritchard has taught at Miami University, San Francisco State University, City University of New York, and the NC School of the Arts. He was winner of the National Federation of Music Clubs Award in Violin as well as the first prize winer at the London International String Quartet Competition and the Coleman and Fischoff national chamber music competitions. He has performed widely as a recitalist and as soloist with the Boston Pops and orchestras in Europe and South America. His major teachers were Eric Rosenblith, Josef Gingold, Ivan Galamian and Isadore Tinkleman and he holds degrees from Indiana University and the Juilliard School.


Dr. Randolph Foy, was Director of Orchestral Activities, NC State University. He holds degrees from Oberlin Conservatory of Music, the University of Iowa (organ) and a doctorate (conducting) from Peabody Institute of Johns Hopkins University, Baltimore. His teachers have included David Boe and Fenner Douglass (organ) and Frederick Prausnitz (conducting), and John Spitzer (musicology; dissertation "Textural Transformations: The Instrumental Music of Krzysztof Penderecki, 1960-73").
He has conducted in the Baltimore/Washington area, and has taught at the University of Richmond, NC School of Science and Mathematics (founding faculty) and NC School of the Arts. In addition to his teaching and administrative duties as Associate Director of the Department of Music, NC State, Foy conducts and teaches at the Governor's School of NC in Winston-Salem, a summer program for gifted high school students.
He has been called "an inspired and inspiring director" and "a totally committed musician whose mission is to spark in his audience the same level of enthusiasm that he clearly feels." In May, 2006, Dr. Foy was awarded the City of Raleigh Medal of Arts for presenting a wide variety of concerts of unusual repertoire that enhance the cultural life of the community. He retired from NCSU in 2013.